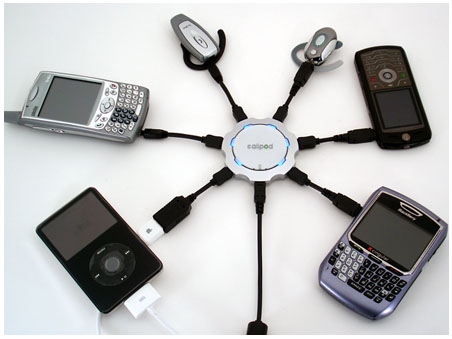 I can't imagine what life would be like without a few gadgets. They keep me in touch with my family and friends, allow me to quickly and cheaply publish whatever is on my mind, find the answers to questions my wife asks, enjoy music, access an endless supply of funny videos, message my kids, remember where I am supposed to be, figure out where I am, use the Internet for ordering pizza, and now if I could just find a use for the phone, life would be complete.
-1 Blackberry:
Crackethberry in the King James. It facilitates most of the 7 deadly sins: sloth, lust, pride, wrath, greed, envy and gluttony.
As we well know, God the Father regularly spoke to Jesus about all sorts of things. I am sure there would have been an
iWill
app that they could communicate on:
Father:
There's a woman with an issue of blood.
Son:
Sorry dad, I didn't see her but the anointing sure went out of me.
And can you see Jesus grabbing text messages every time one of the 12 had a problem?
Peter:
The storm sux. FML.
Jesus:
How would you like to walk on the water? And watch your language.
Peter:
WT4? And sorry, Lord.
I am wondering what it would have been like if Jesus was messeging the disciples or texting?
Unknown ID:
Give it up Andrew, I saw you under the tree.
Andrew:
Who is this?
Unknown ID:
It's the Messiah.
Andrew:
No for real, who is this? How'd you get my number?
Or Facebook stati! What's on your mind?
Jesus of Nazareth:
LOL! Sent the demons into a heard of pigs!
John:
The dude just got up and walked!
Judas:
I'm dead now.
-2 iPod:
What a great gadget. If the worship at church is not to your liking, you can listen to DC Talk or something. The apostles would have had one, I am sure.
Playlists:
Songs not to play in the presence of Jesus.
Lame Worship
Jail Hymns
Pics:
Me and the Master
The Fish and the Bread Party
The Stupid Donkey
Video:
Punked the Wine Steward!
Peter's Rooster
-3 Cellular Modem:
Are you kidding, we can even get a signal in the empty tomb, the Sea of Galilee, anywhere... I can order pizza from the upper room.
-4 Laptop:
Sure, let's see if you are in the Lamb's database? Nope. Windows Unclassified Exception 12379173183913. This would have changed the story of the woman at the well, and the woman taken in adultery. Sure, let me look for that on YouTube.
-5 Digital Video/YouTube:
Peter looks so cute when he's mad throwing the nets on the other side of the boat. And the Last Supper, that was quite a party.
-5 1/2 USB Cable
How about you, does technology connect you with God?