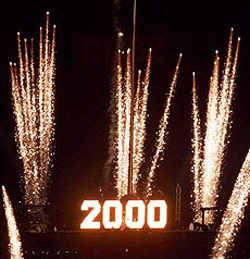 Five, four, three, two, one!
I remember it pretty clearly, I had the flu and there was the ball dropping to touch off the year 2000. Most of the world was waiting for computer system failures, airlines couldn't sell a ticket, Disney released the newest Fantasia while churches were saving water in barrels, food stuffs and buying generators. One prophet said "nothing would happen," and another said that "little would happen." Y2K came and went like any other New Year.
In my personal life, 2000 was a though one. My divorce was finalized, I got laid-off and started back to computer school. I packed everything I had left in a VW Bug and moved in at a friends home.
That same year: February 13th was the day that Peanuts creator Charles M. Schultz died - it was the second anniversary of my dad's death.
August 21st - Tiger Woods wins golf's PGA Championship to become the first golfer since 1953 to win 3 majors in a calendar year.
November 16th - Bill Clinton became the first U.S. President to visit Vietnam since the end of the Vietnam War.
December 13th - The long and highly contested election of G. W. Bush ends with Vice President Al Gore delivering his concession speech.
2001
brought my first date with Mary Anne in June, the 9/11 disaster, and my mother's death from cancer.
April 1st - Same-sex marriage becomes legal in the Netherlands, which is the first country to allow it.
May 25th - 32-year-old Erik Weihenmayer, of Boulder, Colorado, becomes the first blind person to reach the summit of Mount Everest.
October 23rd - Apple releases the iPod.
2002
was the year of missions - I was in Londrina, BZ in January, Norway in May, and in Brasilia in September.
Jan 1st - Euro banknotes and coins become legal tender in twelve of the European Union's member states.
April 14th - Tiger Woods becomes the third golfer to win The Masters in two consecutive years
2003
was the year I married Mary Anne and the one in which Charlotte was born. We spent our 1st Christmas together in Hyannis.
March 12th - Elizabeth Smart, was found after having been missing for 9 months.
August 10th - The highest temperature ever recorded in the UK - 38.5°C (101.3°F) in Kent . It is the first time the UK has recorded a temperature over 100 degrees Fahrenheit.
October 19th - Mother Teresa is beatified by Pope John Paul II.
2004
was a year of ministry to the Brazilian community, new jobs and hope for lots of things.
June 24th - In New York, capital punishment is declared unconstitutional.
October 20th - Boston Red Sox come back from 0-3 to defeat the St. Louis Cardinals 4-3 to win baseball's American League
2005
- Another new job for David and Mary Anne.
March 16th - Israel officially hands over Jericho to Palestinian control.
May 16th - Kuwait permits women's suffrage in a 35-23 National Assembly vote.
July 24th - Lance Armstrong retires after winning a record seventh consecutive Tour de France victory
2006
- We moved to Natick, MA. New jobs, new home, new church - new challenges.
February 22nd - At least six men stage Britain's biggest robbery ever, stealing £53m (about $92.5 million or 78€ million)
March 6th - South Dakota Governor Mike Rounds signs a bill into legislation that would ban most abortions in the state.
March 22nd - 3 Christian Peacemaker Teams Hostages; held in Baghdad for 118 days after the death of American, Tom Fox.
July 5th - North Korea launched two short-range Nodong-2 missiles.
December 18th -
Fire & Grace
goes online.
December 30th - Saddam Hussein is executed by hanging.
2007
- We settled in for a quiet life - well, except for another move to a bigger place.
Jan 9th - Apple Inc CEO, Steve Jobs announces the iPhone.
May 11th - Pope Benedict XVI canonizes the first Brazilian-born saint, Frei Galvão.
Aug 7th - Barry Bonds of the San Francisco Giants breaks baseball great Hank Aaron's record by hitting his 756th home run.
Oct 9th - The Dow Jones Industrial Average closes at an all-time high.
2008
- More of the quiet life.
Feb 24th - Fidel Castro retires as the President of Cuba after nearly fifty years.
Sepember 7th - The US Government takes control of the two largest largest mortgage financing companies in the US, Fannie Mae and Freddie Mac.Sep 7th - The US Government takes control of the two largest largest mortgage financing companies in the US, Fannie Mae and Freddie Mac.
October 3rd - The $700 billion bailout bill for the US financial system is signed by President Bush.
2009
- I was laid off at work and found a new job in record time! Charlotte graduated from Little Folk Farm and was accepted into a Spanish immersion Kindergarten. Mary Anne had a cancer scare, and we took Dave Ramsey's advice to get out of debt.
January 15th - US Airways Flight 1549 makes an emergency landing into the Hudson River shortly after takeoff from LaGuardia Airport in New York City. All passengers and crew members survive.
January 20th - Barack Obama, inaugurated as the 44th President of the United States of America, becomes the United States' first African-American president.
A lot has happened in 10 years. I was thinking how has God spoken to me during this decade. Here are a few things that I finally learned.
- I learned trust Him in desert, even if the cloud far off wasn't coming for 3 1/2 years.
- I learned the joy of a committed wife. Mary Anne is the best thing that ever happened to me since I first met Jesus!
- I learned that I am more peaceful near the beach.
- I am often reminded that I am the church, and if is not perfect, it's just me.
- I learned even if you lose just about all your earthly possessions, that the weakness which comes from that, God can use in amazing ways.
- I learned that having parents was better than not having them, regardless of what they did.
- I took me another daughter to better appreciate the two I already had because she caused me to remember their young lives.
- That we haven't had a president that I liked as much as Ronald Regan.
- Revivals come and go, but God is faithful regardless.
- Relationship is better than church.
- That we are another year closer to the end times, and the last trumpet.
- The church prefers religious folks that fit their molds than folks who are passionate for the Kingdom.
- Prayer still works, and people still fail.
Happy 2010